Mission To Mars
Pupils will work in pairs, one class at a time, to program robots using BBCmicrobits, a computer and inventblocks engineer kit.
Curriculum Topics: Computing, D&T and Mathematics.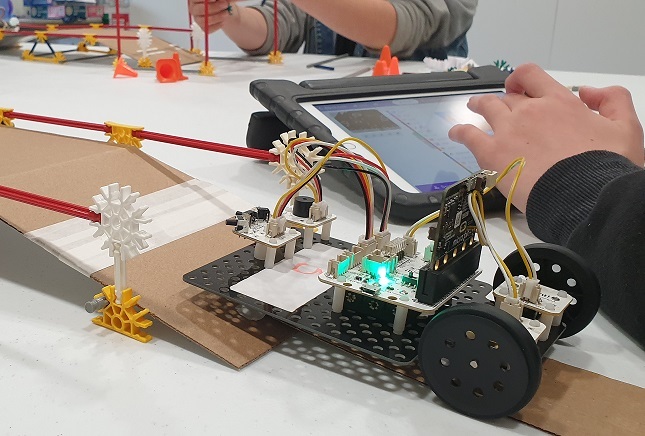 How the day works?
This activity is for students in Years 3-8 with differentiated topics. Student will work in pairs, one class at a time, to code a BBC microbit to control Invent Engineer robot vehicles with an iPad.
Students will:
Code the vehicle to go forward, reverse and turn using Blocks "drag and drop" software to create a working model;
Code the LED screen to display images and messages;
Code the vehicle to use sensors to detect obstructions and alter course;
Code the vehicle to complete a course.
In addition transferable skills used by students on the day are:
Working positively on new challenges;
Generating ideas to improve something;
Exploring problems by investigating the pros and cons of different solutions;
Contributing to group decision making;

Keep trying when something goes wrong and encourage others to keep trying too.

How much does it cost?
A full day at school which provides three classes in separate sessions (x30 pupils in each session). Typically two sessions in the morning and one in the afternoon. This session is run by a SATRO STEM Tutor with experience in education and has undertaken Robotics Training at the ESA.
State & SEN discounted* to £500/day
Independent Schools - £600/day
*As part of SATRO's charitable purpose.