Problem Solving Challenge
Teams of six students in Key Stage groups take on an unseen problem solving challenge testing their STEM and work skills. We hold area heats to compete for a space at the Grand Final.
See below for upcoming dates and previous challenges.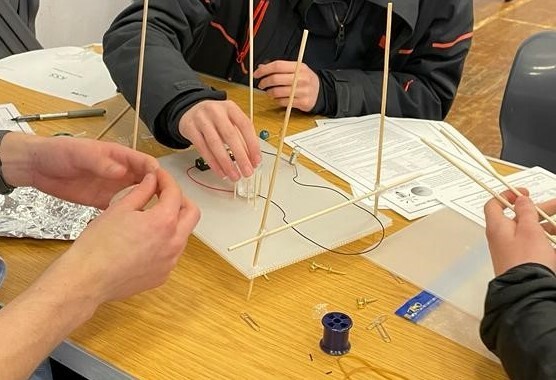 Secondary Problem Solving Challenge 2024
The venues and dates for the heats of the Problem Solving Challenge 2024 are below with booking options.
25/01/2024 St Philomena's School, Carshalton, SM5 3PS
01/02/2024 Tomlinscote School, Camberley, GU16 8PY
06/02/2024 St John the Baptist School, Woking, GU22 9AL
29/02/2024 George Abbot School, Guildford, GU1 1XX
05/03/2024 St Bede's School, Redhill, RH1 2LQ
Final TBC 19 or 21st March
Teams will be set a problem to solve, using only the materials provided, within a fixed time. Schools will submit all team entries for judging. Winners and Runners-Up from heats in each key stage will be put through to the final. Note: only one Key Stage team per school.
Student Quotes 2023 - What did you enjoy most?
"Thinking outside the box and having to work well as a team in a stressful and time sensitive situation."
"As a team we most enjoyed collaborating and communicating ideas in order to maximise success and minimise margin for error."
"Being together as a team, tension created excitement."
"It was a really fun experience with enjoyment throughout."
Download Booking Form here
Prices: £35 for 1 team, £70 for 2 teams, £90 for 3 teams attending.
Problem Solving Challenge In Action
The Problem Solving Challenge is an annual event which progresses through 5 regional heats to a Grand Final. It has been running for over 20 years and will involve nearly 1000 student annually.
Teams compete in teams of six in a desktop engineering challenge for one and half hours using only the materials and guidance provided in a pack. Each team is judged on reaching a defined set of goals be that height, length, speed or time. The challenge is to solve the problem using ingenuity, team work and creativity based on STEM skills.
Click the button below to watch the 2018 final!